Welcome to the amazing world of Thrive Cosmetics a brand that marries beauty with purpose. A quick dive into their catalog reveals a plethora of beauty products that caters to everyone, no matter the skin type or preference.
There's something truly unique about Thrive Cosmetics. More than a beauty brand, it's a beauty movement that uplifts women and men, and empowers them to embrace and love their true selves with quality, cruelty-free products.
What is Thrive Cosmetics?
Thrive Cosmetics is an American beauty brand known for its high-quality, vegan, and cruelty-free makeup and skincare products. Founded by Karissa Bodnar in 2013, the brand operates with a mission it calls "Beauty with a Cause."
The "Cause" in Causemetics is not just a play on words. For every product sold, Thrive Cosmetics donates to help a woman thrive, supporting women who are fighting cancer, surviving domestic abuse, emerging from homelessness, and veterans.
Their product line includes a wide range of makeup for eyes, lips, and face, along with skincare products, all formulated without the use of parabens or sulfates.
Thrive Cosmetics: Beauty with a Purpose
Thrive Cosmetics is not your average beauty brand. Founded on the principles of empowerment, giving back, and inclusivity, this brand is changing the game in the cosmetics industry. They offer a wide range of beauty products that are cruelty-free, vegan, and made with high-quality ingredients. But what truly sets them apart is their commitment to making a difference in the lives of women around the world.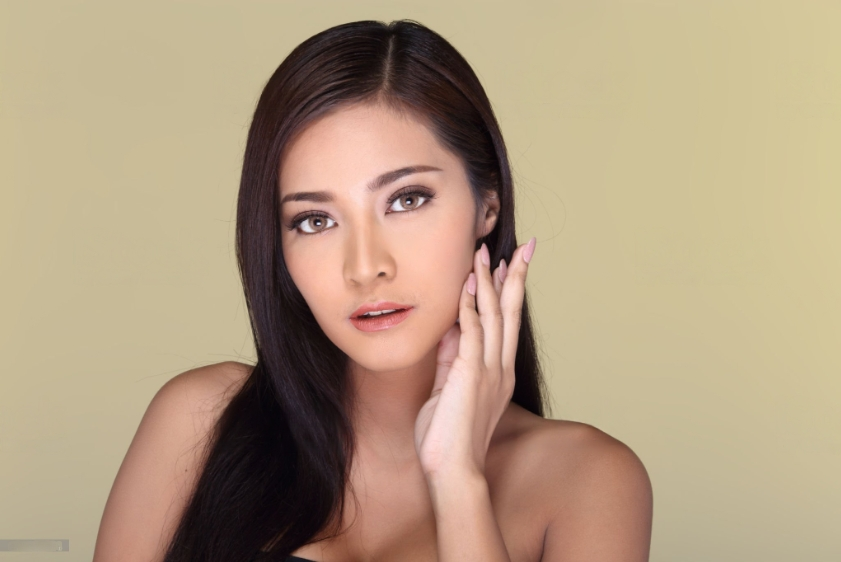 Pros
High-Quality
Effective products
Vegan, cruelty-free, and clean beauty
Positive social impact with 'Beauty with a Cause' model
Wide range of beauty and skincare products
Transparent business practices
Cons
Higher price
Limited physical availability
primarily sold online
Thrive Cosmetics has designed a user-friendly and intuitive website for an optimal shopping experience. The clean layout features categories for makeup, skincare, and sets, allowing customers to easily locate products. Detailed product descriptions, ingredient lists, and application tips offer a comprehensive understanding of each product, while a search bar ensures quick access to specific items. Information about the brand's story, social impact, shipping and return policies, and FAQs can be found at the bottom of the page.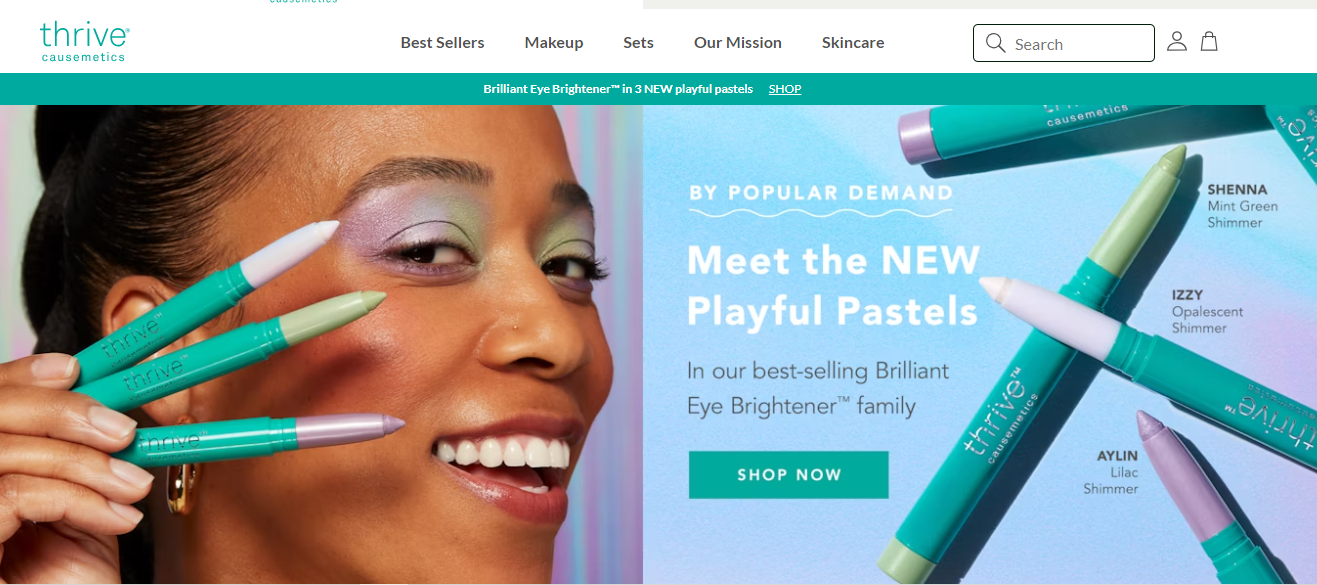 How and Where to Buy Thrive Cosmetics?
Purchasing Thrive Cosmetics products is an easy and straightforward process. Follow these steps:
Visit the Thrive Cosmetics Website: Navigate to the official Thrive Cosmetics website where the brand's full range of products is available.
Explore the Product Range: Browse through their variety of offerings which includes makeup for eyes, lips, face, as well as skincare products and sets.
Select Your Desired Products: Once you find a product you're interested in, click on it for more details. Here, you can view the product description, ingredients, usage instructions, and customer reviews.
Add to Cart: If you decide to purchase the product, click the 'Add to Cart' button.
Checkout: When you've finished shopping, go to your cart and click 'Checkout.' Here, you'll provide shipping information and choose your preferred payment method.
Confirm and Pay: Review your order details to make sure everything is correct. Then, finalize your purchase by processing the payment.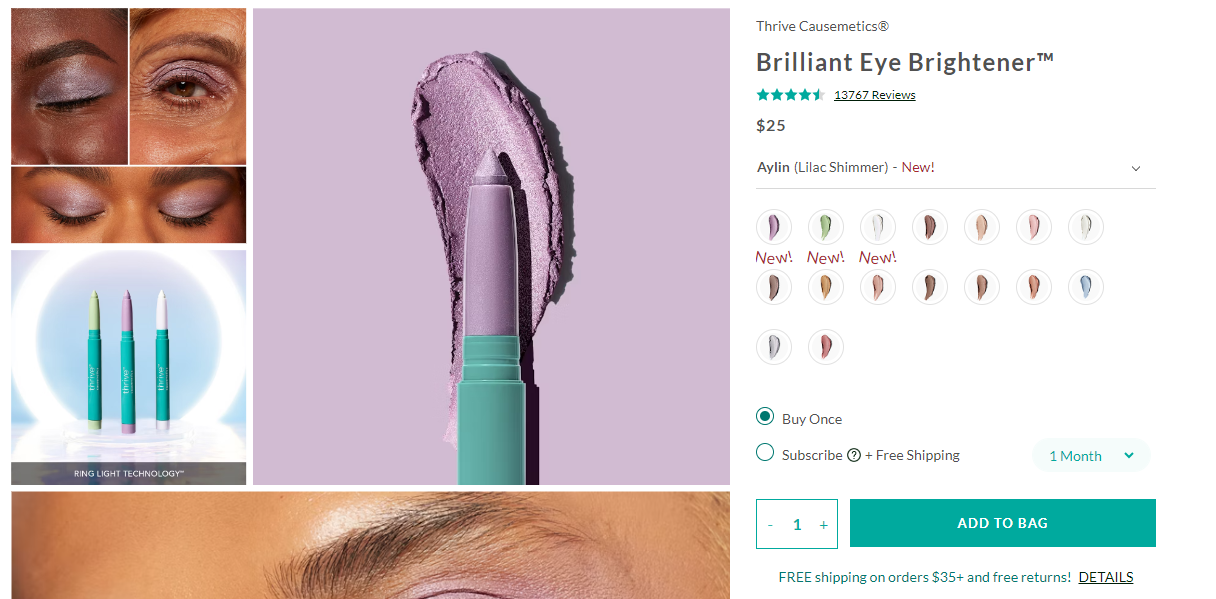 Exploring Thrive Cosmetics Products
Mascara: The Showstopper Product
Perhaps the star product in the lineup is the Thrive Cosmetics mascara. Known for its lash-loving formula, it has received rave reviews and remains a firm customer favorite.
The Comprehensive Makeup Range
Beyond mascara, Thrive Cosmetics boasts a complete makeup range, including mascara:
Lipsticks
Foundations
Eyeliners
And more
The brand's skin care line is also worth mentioning, with a number of products designed to nourish and care for every skin type.
Shipping and Order Processing
Thrive Cosmetics offers a seamless and efficient shipping process for its customers. They cover a wide range of areas, shipping products both nationally and internationally. While the shipping cost may vary depending on the destination and the order size, details about shipping charges are transparently shared at the time of checkout.
The brand strives to ensure that orders are processed promptly so customers can receive their products as quickly as possible. The timeline for delivery depends on the shipping method chosen and the destination, but estimated delivery times are clearly communicated during the checkout process.
Order Processing: How Thrive Handles Your Purchase
From the moment you place an order with Thrive Cosmetics, the brand puts in every effort to ensure a smooth and efficient process. Once an order is placed, it is promptly processed and prepared for shipment. Customers receive email confirmations with order details and tracking information to monitor the delivery status.
In case of any issues or concerns during the order process, Thrive's dedicated customer care team is ready to assist and resolve problems. This commitment to efficient order processing and customer satisfaction underscores Thrive Cosmetics dedication to providing a superior shopping experience.
The Thrive Cosmetics Team
The Thrive Cosmetics team, led by founder Karissa Bodnar, is a dynamic group of passionate individuals committed to delivering high-quality beauty products. The team works together to ensure that the brand's mission of beauty with a purpose is reflected in every product they create.
Commitment to Quality and Customer Satisfaction
The Thrive Cosmetics team is deeply committed to quality and customer satisfaction. They work diligently to create, test, and refine products until they meet the brand's high standards. The team also prioritizes customer feedback and strives to address any concerns, embodying a customer-first approach that's integral to the brand's reputation and success.
Thrive Cosmetics Charitable Endeavors
Thrive Cosmetics operates under a mission they call 'Beauty with a Cause.' For every product purchased, the brand donates to help a woman thrive. They partner with numerous charities supporting women in need – those fighting cancer, surviving domestic abuse, emerging from homelessness, and veterans.
When you purchase a product from Thrive Cosmetics your money contributes to more than just high-quality cosmetics; it supports a larger cause. A portion of the proceeds goes directly to Thrive partner organizations. By doing so, Thrive empowers its customers to make a difference and reinforces its commitment to not just creating beauty products, but also creating a more beautiful world.
Diverse and Inclusive: Beauty for All
Thrive Cosmetics understands that beauty comes in all shades, shapes, and sizes. Their product range caters to a wide range of skin tones and features, ensuring that every individual feels represented and celebrated. Whether you're looking for the perfect foundation match or a mascara that adds volume and length to your lashes, Thrive Cosmeticshas got you covered.
Unlock Your Beauty Potential with Thrive Cosmetics
Thrive Cosmetics is more than just a makeup brand; it's a celebration of inner and outer beauty. When you choose Thrive Cosmetics, you're not only investing in high-quality products, but also empowering yourself to embrace your unique beauty. Step into the world of Thrive Cosmetics and unlock your true potential
Problem Resolution and Refunds
Thrive Cosmetics prioritizes customer satisfaction. Their customer care team addresses issues promptly, whether related to shipping, product quality, or ordering, aiming for a swift and satisfactory resolution.
Thrive Cosmetics has a clear refund policy to foster transparency. If a customer isn't entirely happy with their purchase, they can return it within 60 days for a full refund. The process is hassle-free, reflecting Thrive's commitment to customer satisfaction.
Product Reviews and Feedback
Reviews for Thrive Cosmetics highlight customer satisfaction with the brand's quality, vegan, and cruelty-free products. The mascara and skincare line often receive praise, and the positive social impact of purchases is consistently noted. These transparent reviews showcase how Thrive's products meet customer expectations and align with their social mission.

Experience the Thrive Cosmetics Difference Today
If you're looking to elevate your beauty routine while making a positive impact, it's time to give Thrive Cosmetics a try. Explore their website, browse their extensive product selection, and find the perfect items to add to your collection. From the moment you place your order to the day you receive your Thrive Cosmetics package, you'll discover the care, passion, and commitment that sets this brand apart.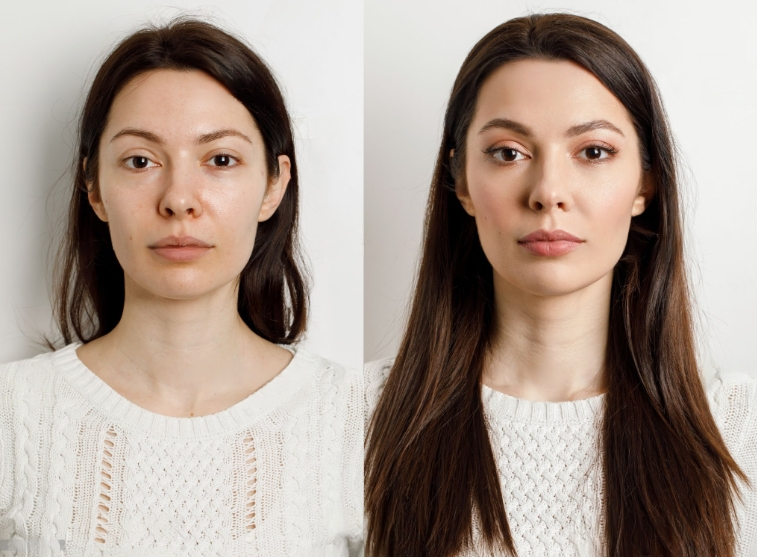 FAQs: About Thrive Cosmetic
Q: Where to buy thrive cosmetics?
A: You can purchase Thrive Cosmetics products from their official website at thrivecausemetics.com. They offer a wide range of cosmetics including makeup, skincare, and beauty tools.

Q: Who sells Thrive Cosmetics?
A: Thrive Cosmetics is primarily sold through their official website, thrivecausemetics.com. However, they may also be available at select retail partners or authorized distributors. It's always recommended to check their website or contact their customer service for the most up-to-date information on where to find their products.
Q: Is Thrive Cosmetics considered clean?
A: Yes, Thrive Cosmetics is known for its commitment to creating clean beauty products. They prioritize using high-quality, vegan, and cruelty-free ingredients in their formulations. Thrive Cosmetics also avoids the use of harmful ingredients such as parabens, sulfates, and phthalates. They strive to provide safe and effective products for their customers.
Q: Are Thrive Cosmetics products good?
A: Thrive Cosmetics is generally well-regarded by customers and beauty enthusiasts. Their products are known for their high quality, innovative formulations, and performance. Many people appreciate their commitment to clean beauty. The positive impact they make through their "Beauty with a Purpose" mission. However, individual preferences may vary, so it's always a good idea to read reviews or try samples to determine. If their products align with your specific needs and preferences.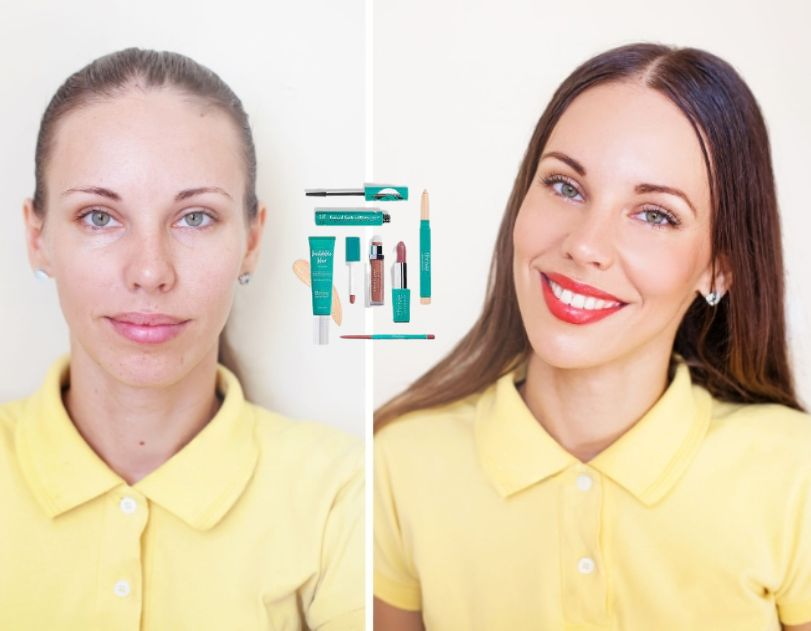 Conclusion:
In conclusion, Thrive Cosmetics is more than just a beauty brand. It represents empowerment, inclusivity, and making a positive impact. With their exceptional range of cosmetics, including their renowned mascaras, Thrive Cosmetics allows women to unleash their inner beauty and express themselves with confidence.
Their commitment to providing clean, high-quality products while giving back to women in need sets them apart in the industry. Whether you're a makeup enthusiast or someone looking to enhance your natural features, Thrive Cosmetics offers a seamless shopping experience and a chance to be part of a movement that celebrates and uplifts women. So, why wait? Join the Thrive Cosmetics community today and let your beauty thrive while making a difference in the world.